Sponge up our advice on cleaning and maintaining vinyl flooring.
When you shop for vinyl flooring at Baker Bros., expect exceptional service. The kind that seems to have gone out of fashion at many of today's stores.
World-class service is alive and well at all seven of our valley showrooms and it's fortified by our 60+ years in the flooring business and sales people with an average of 15 years of flooring experience.
Here, customer service isn't a department, it's a culture, in our DNA. It's an inborn personal commitment to helping our customers, to doing what's right, always, and going the extra mile because the journey is worth it.
We're the place "Where Fashion Meets Flooring" but we're also where you never go it alone. We're the Arizona flooring experts that deliver…
More service per square foot.
And our down to earth help and genuine caring doesn't stop with the installation of your beautiful new vinyl flooring.
Baker Bros. professionals have called on their wall-to-wall knowledge about vinyl floor cleaning and maintenance to help put this section together.
Below they have summarized many valuable tips on vinyl upkeep that you can perform.
So read on and learn the many ways you can protect your vinyl flooring investment both today and tomorrow.
Be persistent about being consistent.
New vinyl floors are extremely durable and long lasting, but like any floor covering they still need regular maintenance to stay looking like new.
Taking consistent care of your vinyl floor is simple and can add years to its life.
Follow these general guidelines for vinyl flooring. For more detailed information always refer to the manufacturer's written floor care procedures.
Tried and true facts about time and temp.
For the first 24 hours after your new vinyl floor is installed, protect all the seamed areas and don't walk on the seam sealer.
Don't use a vacuum with a beater bar as it may scratch your floor.
The attachments that come with your vacuum are useful to clean the edges or to get to hard to reach areas
When sweeping or vacuuming does not remove the dirt, mop the floor with clean warm water.
Rinse the floor thoroughly with fresh water. If water alone does not clean the surface, use cleaning products recommended by the manufacturer.
If you are unable to determine the manufacturer's recommendations, use one tablespoon of liquid dish washing detergent to one quart of water.
Or use one tablespoon of clear ammonia to one quart of lukewarm water. Make sure you rinse the surface to avoid leaving behind a film.
Finally, think prevention. Place non-staining, walk-off mats or rugs at every outside entry to your room.
This will help keep sand and grit from being tracked on to your floor in the first place.
Just be sure to avoid using rubber-backed mats or rugs as they can damage and potentially discolor your floor.
Instead use mats or rugs made especially for vinyl floors and remember to treat them accordingly. Shake, shake, shake!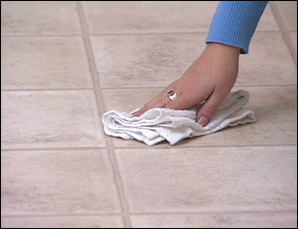 Spills happen fast, so should cleanup.
For spots or spills, wipe them up immediately and use a clean cloth to wipe the cleaner onto the floor.
Make sure the floor's manufacturer recommends the cleaner and that the product label indicates "self-cleaning," meaning you will not get an accumulation of wax on your floor.
Rinse the spot or spill area thoroughly and wipe dry with a clean cloth.
Avoid using abrasive scrubbing tools as they will leave scratches.
Never use abrasive cleaners, soaps, paste waxes, or solvents on your vinyl floor.
Sharp advice for when things get dull.
If your floor becomes dull looking, first, try cleaning it with lukewarm water and clear ammonia to see if there's a film on your floor causing the dullness. (Exact proportions of water to ammonia are stated above.)
If that doesn't work, use the manufacturer's recommended floor polish to restore your vinyl floor to its original gloss level.
Finally, do this about serious problems.
If you have a seam open, cover it immediately, do not wash that area, and contact us for a vinyl floor covering professional to repair the seam.
If your floor gets a cut or gouge in it, cover the area immediately and call us. A professional installer can repair the area, but if the cut is filled with dirt it may be difficult to repair correctly.
Consistent cleaning and maintenance will keep your vinyl flooring beautiful, inviting and durable for years to come.
Look to Baker Bros. for dedicated and knowledgeable customer service during your vinyl shopping experience and expert, precise installation later.
With seven valley showrooms to serve you, all of which are five times larger than the average flooring retailer, you can count on us for…
More service per square foot.
Baker Bros offers: