Read about hardwood flooring types here or shop for them at any of our showrooms.
Style. If one word captures the essence of Baker Bros., that's it. We celebrate style with all our product lines, we incorporate it into every flooring recommendation and we demonstrate it in our relationship with you.
Style is all about fashion and that drives us. That's our company-wide commitment and we communicate it every day, every way and everywhere through the Baker Bros. motto: "Where Fashion Meets Flooring".
And nowhere is this dedication to style greater than in our product portfolio.
Here on our website, and at every one of our seven valley showrooms, you'll discover Arizona's largest selection of high quality, high-fashion, name brand area rugs and flooring.
So many styles, so much selection, so many choices that, at Baker Bros. you are assured of…
More products per square foot.
And it's all showcased with your need for variety and visualization in mind. Our showrooms average more than 8,000 square feet. That's five times larger than the average flooring retailer. All for your viewing pleasure.
And to help you find your style, here and at our showrooms, we've created this section called Hardwood Types. Because the number of hardwood flooring choices, patterns, colors, textures and price points can intimidate even the most experienced shopper.
Knowing the basic styles can provide you with a firm foundation upon which to begin your hardwood-shopping journey.
Here you'll learn all about the wide array of wood flooring on the market today. You'll discover the beautiful yet practical styles, the elegant and easy-care types – the entire spectrum of hardwood flooring choices available for your home.
Choosing your ideal hardwood flooring style is all about knowing the right combination of aesthetics, performance and budget that meets the needs of your lifestyle – emphasis on your.
Considering the vast amount of design options available today with hardwood floors, you can create a look "all your own" that will have lasting beauty and durability.
For example, inserting decorative medallions, running the boards on the diagonal, or creating a border are just some of the design styles one can consider.
But hold on. Before you get to the design, you need to select the type of hardwood flooring that's right for you and your home.
Today you can choose between a pre-finished hardwood floor or one that is unfinished. Pre-finished wood flooring comes ready for installation in your home. The hardwood boards have already been sanded, stained and finished at the manufacturing plant. In many cases this can provide a harder, better- protected surface.
Pre-finished wood floors offer a wider variety of wood species and save hours of labor and cleanup. But unfinished wood floors allow you to have a custom job – you choose the wood species and it's sanded and the stain is applied on site. With unfinished you also have the chance to level the surface of the entire floor after it has been installed.
You get an extended factory finish warranty with pre-finished floors, but not with most job-site finishes.
To learn more about this, we suggest you go to the hardwood sections entitled The Creation of Hardwood Floors, Hardwood Considerations and Before Your Hardwood Arrives. For more on styles, please read on.
Remember that's it's all about location. To begin with, you need to look at where you plan on installing your new wood floor.
There are limitations on where some wood floors can be installed. This is especially true for the 3/4" solid wood floors.
Solid hardwood floors are more susceptible to moisture and are generally not recommended for basements, or installing directly onto a concrete slab. It is because of this that solid hardwood flooring is very rarely used in the state of Arizona.
To help you determine where these floors can be installed you need to understand the different grade levels, see the diagram below.
The installation method also can determine where the floor can go, so be sure to review the installation methods prior to buying your hardwood floor.
Now understand grain and cut.
Hardwood flooring styles are the result of the wood species available. Some of the more common species are red oak, white oak, maple, cherry, white ash, hickory or pecan.
Each species has its own unique graining and texture. The graining on the boards is determined by the way it has been cut.
There are two cutting processes. "Sliced Cut" shows a more uniform pattern, whereas "Rotary Cut" displays a larger and bolder graining pattern.
Next, choose your color wisely.
Within each species of hardwood you will have a choice of color and finishes. Here's where it pays to shop carefully.
When selecting a color, choose one that either coordinates or contrasts with your cabinetry and furniture.
Also keep in mind that darker woods tend to be more formal while natural colors are more casual.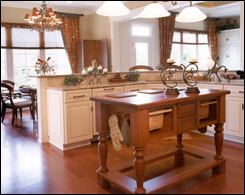 Select a finish that suits your style.
You should be aware that there are different types of finishes depending on whether your hardwood floor is pre-finished or job site finished.
In general, lower gloss levels are better suited for active rooms. This is because lower gloss or matte finishes help minimize the appearance of dirt and scratches.
Consider the elegant look of the high gloss finish for a more formal décor.
Yesterday's upkeep is a thing of the past.
The days of having to wax and scrub your hardwood floors are pretty much gone forever. Manufacturers of pre-finished wood floors have developed sophisticated techniques to quickly apply hard, durable, urethane-based finishes right at the factory.
By using ultra violet lights the pre-finished wood planks can have several coats of urethane applied within a matter of a few minutes. This is helping make hardwood floors both more affordable, and much easier to maintain.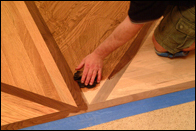 Recently, the hardwood flooring manufacturers have begun to add small chips of Aluminum Oxide directly to the floor's finish which dramatically increases the life of the urethane finish.
Floor protection wears many coats.
Most factory finished hardwood floors have several coats of finish applied to the wood's surface. As example, many wood floor companies are applying 6-10 coats of a ultra-violet (UV) cured urethane. This type of finish would be extremely difficult for someone to duplicate on a job site finish. In addition, factory finishes tend to be more consistent and durable.
This does not mean you should wash your hardwood floor with a mop (as a matter of fact, excessive water is not a friend of hardwood), but it does mean these floors won't watermark like the old waxed hardwood floors. The UV cured urethane wood finishes do make these floors easier to maintain than the old waxed hardwood floors.
Pre-finished hardwood finishing offers you these choices:
UV-cured – Factory finishes that are cured with Ultra Violet lights versus heat.
Polyurethane – A clear, tough and durable finish that is applied as a wear layer.
Acrylic-urethane – A slightly different chemical make up than Polyurethane with the same benefits.
Ceramic – Advanced technology that allows the use of space-age ceramics to increase the abrasion resistance of the wear layer.
Aluminum Oxide – Added to the urethane finish for increased abrasion resistance of the wear layer, which is becoming extremely popular on the better grade wood floors.
Acrylic Impregnated – Acrylic monomers are injected into the cell structure of the wood to give increased hardness and then finished with a wear layer over the wood.
Job-site hardwood flooring finishing methods provide these options.
If you have an acceptable subfloor surface, and you want a custom stained hardwood floor or a wood floor to match existing trim, than a job-site finish is your answer.
Job-site finish means you start with a bare (unfinished) hardwood floor and than the floor is sanded, stained, and finished in your home. The other advantage of a job-site finish is, if you are concerned with uneven heights between planks, the sanding process will smooth out the floor. Be warned, though, this can be quite a mess and the process does take several days.
Job-site hardwood floor finishing methods include:
Water Based Urethane – Water is used as part of the chemical make up of the polyurethane finish.
Solvent Based Urethane – Oil is used as part of the chemical make up of the polyurethane finish.
Moisture Cured Urethane – A similar chemical make up as solvent based urethanes, but this finish needs the humidity (moisture) in the air to cure.
Board widths and their influence.
When shopping for a hardwood floor you will see boards in various sizes. The narrower board widths are referred to as "strips" and the wider units as "planks".
You should be aware that board width can visually impact a room.
Narrow width boards will expand a room, while wider boards work well in a larger room or area.
Edge knowledge you should be aware of.
Different hardwood floors have different edges. Hardwood floors come in either a beveled edge, or a square edge. Each edge creates its own specific look and feel to final installation.
Here's a summary of today's hardwood edge types:

Square Edge:
The edges of all boards meet squarely creating a uniform, smooth surface that blends the floor together from board to board. The overall look of this floor gives a contemporary flair and formal feeling to the room.

Eased Edge:
Each board is just slightly beveled. Some manufacturers add an eased edge to both the length of the planks as well as the end joints. Eased edges are used to help hide minor irregularities, such as uneven plank heights. Eased edge is also called micro-beveled edge.

Beveled Edge:
These products have a very distinctive groove in them. Beveled edge planks lend themselves to an informal and country décor. With the urethane finishes applied at the factory today, the beveled edges are sealed completely, making dirt and grit easy to be swept or vacuumed out of the grooves.
Determining your floor's hardness is easy.
Below are listed the relative hardness for numerous wood species used in flooring.
These ratings were done using the Janka Hardness Test, which measure the force needed to embed a .444 inch steel ball to half its diameter in a piece of wood.
The higher the number the harder the wood. Although this is one of the best methods to measure the ability of wood species to withstand indentations, it should be used as a general guide when comparing various species of wood flooring.
The construction and finish also play an important role in the durability and ease of maintenance of any wood floor.
HARDNESS RATING
Douglas Fir 660
Southern Yellow Pine (shortleaf) 690
Southern Yellow Pine (longleaf) 870
Black Cherry 950
Teak 1000
Black Walnut 1010
Heart Pine 1225
Yellow Birch 1260
Red Oak(Northern) 1290
American Beech 1300
Ash 1320
White Oak 1360
Australian Cypress 1375
Hard maple 1450
Wenge 1620
African Pedauk 1725
Hickory 1820
Pecan 1820
Purpleheart 1860
Jarrah 1910
Merbau 1925
Santos Mahogany 2200
Mesquite 2345
Brazilian Cherry 2350
Those are the basics regarding hardwood flooring types.
We hope this helps sharpen your focus on a hardwood style to match the pattern of life in your home. And to see that style, and all of those above, we invite you to tour one of our seven larger than life showrooms.
Baker Bros offers: