Learn here if vinyl is your type, visit us to see if it suits your style.
Vinyl flooring offers you seemingly unlimited design possibilities. It's available in a wide range of colors, textures and patterns for every taste, home and lifestyle.
Baker Bros. also offers you virtually endless advantages. We feature the largest product line in this area with some of the most legendary names in flooring. Each of our seven valley showrooms is five times larger than the average flooring retailer and located for your convenience.
The Baker Bros. name is recognized and trusted across the region by generations of Arizona customers who continue to come back to us because of our genuine caring, knowledge sharing and personal involvement.
We're also the one flooring center that elevates, educates and emphasizes style. In fact, if one word defines and differentiates Baker Bros., that's it.
Style is all about fashion and we dedicate ourselves to it every day, every way and everywhere through the Baker Bros. motto: "Where Fashion Meets Flooring".
We offer so many styles, so much selection, so many choices that, at Baker Bros. you are assured of…
More products per square foot.
And to help you learn more about vinyl flooring, we've created these pages.
So please read on and we promise to be as clear and helpful as possible.
When it comes to advancements, vinyl is never final.
Today's vinyl flooring has truly advanced from that of yesterday.
Long gone are the shiny, plastic-looking floors that easily dented and ripped.
There is now a broad selection of fashionable colors, patterns and textures that offer durability and easy maintenance.
Many of these stylish new products emulate the look of natural stone, slate or ceramic tile and can fit into any budget. New luxury vinyl features vinyl that looks like wood, vinyl that looks like stone, and vinyl that looks like tile.
Where vinyl has been at home.
Traditionally, vinyl flooring has been found in your kitchen, bath or laundry room areas.
This is because vinyl is a practical, functional and fashionable option for today's active households.
Vinyl is also known to be cushiony and warm underfoot in comparison to natural stone or resilient tile.
But now, thanks to innovations in design and performance, vinyl flooring is at home in any room in your home. So factor that into your planning.
Replacing floors tomorrow? Use vinyl today.
If replacing any flooring may be in your future, keep vinyl in mind.
Vinyl floors are much easier to remove than a grouted ceramic tile or natural stone floor.
This could potentially save you time and money in the long run if and when replacement is a possibility.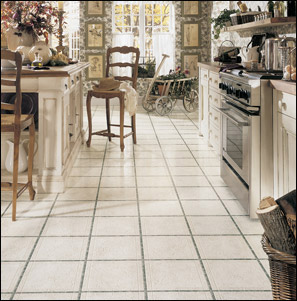 One truth is constant, you get what you pay for.
And as you move up in the vinyl price range there are many benefits.
In terms of product selection alone, more versatile patterns, colors and textures will be available to you.
When shopping for performance, today's premium wearlayers offer superior resistance to stains, scuffs and scratches. That's worth noting if you live in an active household, or with kids or pets.
Some premium wearlayers are enhanced with aluminum oxide, which provides exceptional resistance to scratching.
More importantly, these wearlayers make vinyl clean up a breeze. Make your life a little easier.
You'll also notice that, as you move up in price, you'll get enhanced performance constructions designed to protect your floor from rips, tears, gouges and permanent indentations.
Size dictates the vinyl pattern.
When selecting a vinyl pattern, you want to consider the size of the room and the size of the pattern.
The decorating rule of thumb still applies to vinyl flooring in relation to room size and color.
Lighter flooring colors will make a smaller room appear larger, while darker colors will absorb the light and create a more intimate setting.
When working with vinyl flooring pattern sizes, a smaller pattern works well in small areas or in rooms where the pattern will be visually interrupted with pieces of furniture, or a kitchen island.
However, remember that larger flooring patterns can sometimes actually visually expand a room.
Keep fabric and wallpaper in mind.
When considering vinyl flooring styles you'll also want to consider any printed fabric on your furniture or wallpaper in the room.
If the fabric or wallpaper is a large-scale print you'll want to look at smaller patterns for the floor.
Conversely, if you have a small-scale pattern in the fabric or wallpaper you'll want a larger pattern for the floor.
Don't be at a loss about gloss.
Vinyl flooring products come in a selection of gloss levels to suit your needs.
Generally speaking, the lower the gloss level, the more forgiving your floor will be to the daily wear of foot traffic. Choose your gloss level accordingly.
Those are the basics regarding vinyl flooring.
For more information, see the other vinyl sections. Or visit one of our seven Baker Bros. showrooms.
There you'll find more showroom area than the typical flooring store. More knowledge and experience per sales person.
More products per square foot.
Baker Bros offers: